Our
Ideals
Mission ERS International prides itself behind state-of-the-art, proprietarily engineered, eWaste processing technologies. Our advanced refining has allowed for exceptional return to our clients and our upcycling methodologies have provided beneficial environmental results. Due to these efforts, ERS International is a true, zero residual company.
Helping our environment & our customers achieve affirmative Corporate Social Responsibility
---
Vision At ERS International, our vision is to be the world's most environmentally influential electronics recycling company. Our cutting-edge technologies have allowed us to revolutionize the landscape of modern recycling. Our experienced team of visionaries and professionals provide innovative, dream-to-reality solutions. Our commitment – To assure we stay globally progressive with environmental ingenuity.
Values Caring for the environment and our customers go hand-in-hand. As far as we're concerned, one can't work without the other. Our integral promise is to consciously and consistently maintain a beneficial, sustainable relationship with our earth and the people who live on it.
Global
Reach
ERS International network allows us to service our global clients within 32 countries around the world. Our broad reach allows us to design and develop specified solutions and programs for our clients on a local, national and global level.
Branches
in Brazil
Indaiatuba
Launched in 2013, this branch began operation in 2014, serving customers in the Midwest region

Size 5.000 m²
Capacity 400 ton/month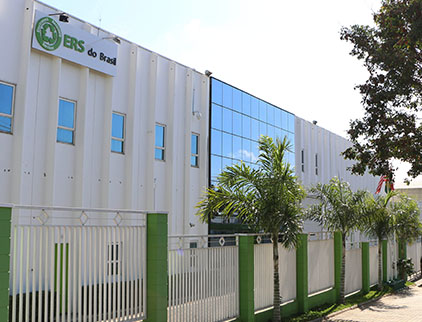 Manaus
Launched in 2014, the unit focuses primarily on serving customers in the Northern and Northeastern regions of the country

Size 1.200 m²
Capacity 100 ton/month

Our
Team
We count on the collaboration of a team of competent professionals, selected in their specific areas of specialties, to enable an efficient and qualified development of our production processes.